Custom Artwork
A client asked for something customized to his vision of someone 'falling' from the planet earth into space, cracking apart as if from some inner energy needing to escape. He also requested this specific quote be included on the piece, and that the piece itself should reflect what was quoted even without it. This is the end result after a few changes, primarily created in Adobe Photoshop.
Savor Filipino Flyer
My client needed a flyer to whet the appetites of those interested in an event where Filipino food and drinks would be the main draw. I chose a stock image of a classic Filipino dish, Chicken Adobo, and worked within the image to add the details in a visually enticing way. I also had to work in the sponsors for the event, and while I couldn't change their images in any way, I was able to work with the background. After some trial and error I found that additional wood grain texture going in a different direction rounded out the image nicely, with a similar color to complement the overall design. This image was created through a combination of Photoshop and Illustrator.
Massage Business Cards
A client needed business cards designed for her new business offering services as a professional masseuse. She was seeking an earthy design that would integrate greens and browns while encouraging the appeal of relaxation through massage.
With a combination of Photoshop and Illustrator and a selection of stock imagery, the tatami mat background creates the idea of a room where relaxation is the goal, while bamboo brings life to the setting as the ultimate symbol of restoration. Minimal wording shows contact information as well as the location of her services, and a brown banner balances out the overall image so it's not weighed down by the bamboo, giving it an overall light and attractive finish.
Bicycles and Bare Feet Book Cover
A client requested a book cover featuring an old bicycle, some kind of reference to bare feet, and an old pickup truck, somehow showing the country. This design is a combination of 3 stock images along with several Adobe Photoshop adjustment layers and masking techniques as well as Illustrator layout tools.
XPO Safety Focus of the Month Poster
Problem: Redesign an existing poster to be more visually appealing and still get the important points across.
Solution: In using design to get a message across, it's important that the facts are backed up by the visuals. The background image I chose specifically relates to the idea of following too closely on the road, featuring a visual closeup of a bumper in traffic. The image on the original poster design, while traffic related, just didn't address that particular issue. The photo choice also determined the landscape orientation, and I placed a fading white gradient over that from left to right to create a background which text could stand out against, while still showing the photo and leaving the car's bumper as a focal point.
To stamp down the idea of a minimum of 4 seconds' distance between vehicles, the timer was the perfect visual to include, followed by major bullet points.
Banners throughout highlight important points to remember, then to keep the 'safety-focused' portion of the design in while still making it stand out, a tab-like format worked nicely, creating sort of the afterthought of the poster, something that gets noticed and catches your eye without being intrusive.
I thought the distance graph was very straightforward in message and only needed some touching up to make it more appealing, so I included that from the original, updating only the color scheme and curving the corners for a softer, more attractive finish.
The graphics and content on the left are balanced out by the bumper image on the right, making for an overall pleasing and attractive design which will get people's attention, getting the message where it needs to be.
Logo Design - Biker Romance
While designing some options for a client logo, after having agreed to doing the design but before going over the desired look, I was going off the general mentality of the client and previous styles for this design. While this style was not what she had intended for the particular pen name logo she was currently looking for (which she did end up with of course), she stated it would have been perfect for another of her pen names as an author.
Center for Women's Health Banner
Using a combination of Adobe Photoshop and Illustrator, this image was designed to be printed as a standing banner for public events and networking.
A Deadly Peace - Book Cover Design
Created in Photoshop, this book cover was designed for a client of Wynwidyn Press, LLC. It is a compilation of two images with original art for the cat-moon necklace.
Corrupted Justice - Book Cover Design
This design is a combination of Photoshop and Illustrator, using multiple stock images and creating the border from scratch, along with all outlines and text. Created for a client of Thomson-Shore Publishing.
Chiaroscuro Postcards
In order to promote my senior exhibition, I designed these postcards using a photo of one of my charcoal drawings, creating a graphic using the text outlines to get the shading from a different direction, and adding shading beneath the lettering. On the back I added the details of my show, including the date and location of my reception. The back was designed to postcard specifications, so it could be mailed using postcard postage rates and without messing with the computerized scanners.
2014 Annual Report - Goodwill Industries of SE Michigan - Front Cover
Cash Mob Poster - Goodwill - Illustrator
A poster was needed to welcome the Adrian College Cash Mob to the Adrian, MI Goodwill store. I designed this in Illustrator.
Guardians of the Galaxy Banner, Photoshop
Problem: While working for Discount Party Supplies, as the Guardians of the Galaxy movie premiered and party supplies arrived, we needed a banner to promote the product on our homepage.
Solution: Using imagery from the existing products, I cut out imagery and assembled this banner using Photoshop. I created the starry night background behind the title to further set off the tableware and main character, and placed a call to action on the blue orb.
Odd Jobs With Awesome Pay Infographic
Problem: Create an informational design to show a variety of interesting jobs which offer high salaries in an interesting way.
Solution: I used Illustrator to create an info graphic, primarily using green hues to represent money, with some pale ivory to provide contrast in some spots for a more interesting visual experience.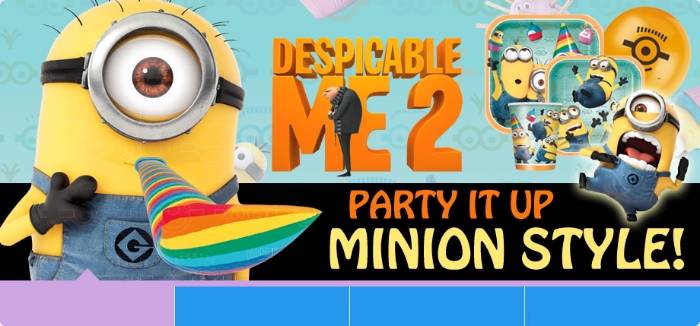 Despicable Me 2 Banner, Photoshop
Problem: While working for Discount Party Supplies, management needed to promote our new Despicable Me 2 party supplies with a banner on the homepage.
Solution: Using the existing party supplies imagery, I cut out individual characters and party supplies and assembled them into this banner in Photoshop, using the words "Minion Style!" as a play on the "Gundam Style" dance that was popular at the time.
A Totally Sweet History of Chocolate Infographic
Problem: People are much more interested in eating chocolate than in learning about its history. Make it interesting.
Solution: In the time-proven effectiveness of info graphics, I used Illustrator to create this mouthwatering display of historical chocolate facts in a variety of chocolate-esque tones, including an ivory of white chocolate for contrast, as well as to better guide the eye from time period to time period.
Goodwill Annual Honors Night Invitations - 2015
9 Ways Your Cat is Trying to Kill You Infographic
Problem: Design an entertaining info graphic, theme tbd.
Solution: I went with a sense of humor on this one and used Illustrator to create a variety of styles your cat might be trying to kill you, based on the the prevalence of cat-themed memes online.
The Letter R, InDesign, 22" x 28"
Patron.ly Logo Redesign 2, Illustrator
What's Your Type, Illustrator, 24" x 55"
Smoke Typography, Photoshop
Adrian Area Chamber Membership 101 Postcards, Illustrator, 4.25" x 5.5"
Problem: Design a postcard for the Membership 101 events coming up over the next year for the Adrian Area Chamber of Commerce.
Solution: I decided to go very collegiate with this design, working off of the idea of a 101 class, with the simplicity of only two colors and a straightforward Arial font, making good use of negative space to create interest. I enlarged key words to lend excitement to the idea of attending the events, and I purposefully designed the cards with a white border so they could be printed in-house with 4 to a sheet and cut to size with a basic manual paper cutter.
Safetygirl Business Cards for On The Point Promotions, CorelDraw
Problem: While interning for On the Point Promotions, Safetygirl needed a business card created, using their existing logo.
Solution: The logo was very detailed, so I didn't want to put other information onto the front with it that might detract from the intrigue of the logo itself. So, with the logo boldly taking up most of the front, I colored the back to add to the intrigue, using the colors from the logo and a similar font, giving the card a very secretive feel.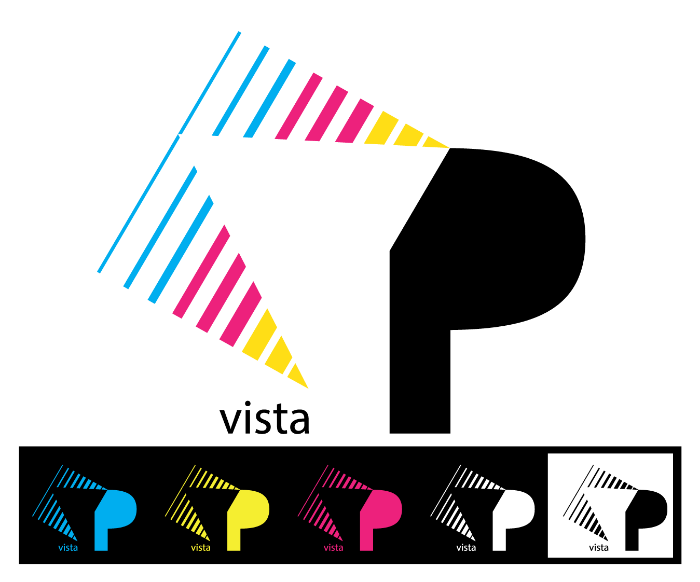 Vistaprint Logo Redesign, Illustrator
Patron.ly Logo Redesign, Illustrator
Sugar and Stripes Emailer, Photoshop
Problem: As an employee of Discount Party Supplies, we needed an image for an e-mailer selling the concept of our new pink and black zebra party supplies.
Solution: Using existing imagery for the products, I cut out the backgrounds and put together an inviting setup to sell the party idea, using a black background to really set it all off. It needed something more, so using the design on one of the plates, I created a border, and added the tagline, "Sugar and spice, and everything STRIPES" to bring it all together.
Design with Nature, Photoshop/Illustrator
So So Happy Emailer, Photoshop
Medieval Party Supplies Emailer, Photoshop
Graduation Emailer, Photoshop
Graphic Design